Well I am not a party bug or something but honestly I hate sitting at home on new years eve watching TV and sipping on wine alone. Last few years as the kids were pretty small we used to arrange a party at home only with friends to celebrate new year. But this year we are having that itch of going out with kids to celebrate the New Year 2019. That said I am also anxious and nervous to thinking if it is actually possible?? So I did my own research and came up with some pointers to keep in mind. So here are 7 tips to plan a New Year Party with kids
1- Children friendly Venue
Biggest challenge is to select a child friendly New year party venue. While I was browsing I came to know about many places in Bangalore like Vivanta by Taj, Crowne Plaza and more which have a special kids zone. Here you can leave your kids with dedicated nannies and party hard with your friends. This kids zone offers separate kids special buffet that has a different menu than the adult zone. Kids zone entertainment includes Jumping castle and Magic Show and like. Some also have Tattoo Artist, Balloon Games, Cartoon Movies on a large screen and Dance Floor amongst others.
You can check out more options available as per requirement for best NYE parties in Bangalore here.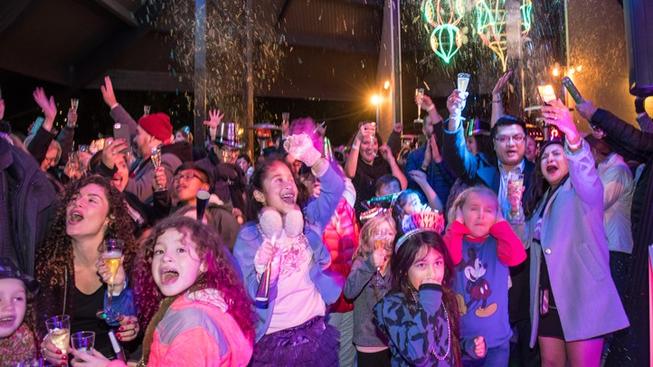 2- Pack up some food for kids
We all know how kids can be so fussy while eating especially outside. So its a good idea to pack up some of their favorite food items which are love eating. Some munchies, finger foods, goodies like chocolates can also be added.
3- Afternoon Nap is a must
Make sure they have proper Nap time at afternoon so they are fully energised in the evening. My kids turn up to be very cranky and irritable if not properly slept.
4- Carry a bag with toys and books
Kids are very possessive of their toys, books and at times find comfort in them in new places or when parents are not around for sometime.
5- Dress them comfortable.
Dress them up in most comfortable clothes in which they can sleep also. Don't worry too much about making them look party ready.  They will be happy when comfortable, fancy clothes do make them anxious at times. Keep a pair of spare clothes also.
6- Invite friends to join you
It's always a better idea to plan going out with another couple with kids. So kids also have company of other familiar kids and are less focussed on you. I have seen trips or outings with other family leave me less stressed with the kids 🙂
7- Get a GPS tracker for kids
It might be a good idea to get a GPS tracker smart watch for kids which you can put on them during party or leaving them with nanny in kids zone. It will help you keep track of them and also enjoy your party.
I have learnt from my experience with my kids that it is when they is comfortable and happy I get to enjoy most my stuff too. So hope you find these tips beneficial and wish you all a very Happy New Year in advance!!