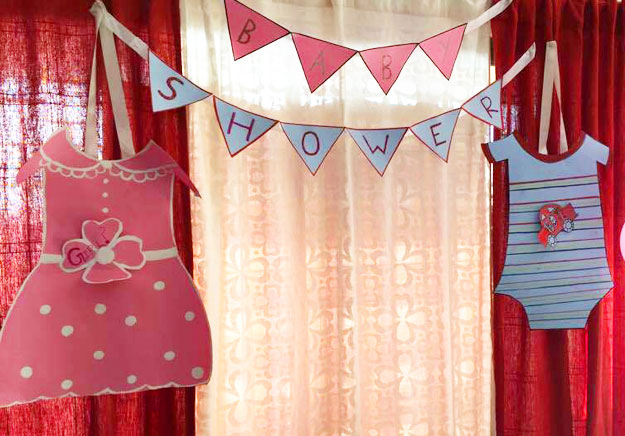 The best surprise I had, my Baby Shower….
After I sent my daughter on school bus and returned home, Abhishek asked me to accompany for a walk. We spent an hour walking and sitting down in our apartment campus talking generally. When I returned home as I was about to unlock the door it came wide open on it's own. I was surprised, How the hell the door opened on it's own, is there some thief, maid or did I just left it unlocked??? 
While all these thoughts loomed in my mind my friends sprang up from behind the door shouting "Surpriseeeee". Yes it was my surprise "Baby Shower" which was all planned to minute details by my dear friends.
They had been planning all this for a month now. One of my friend baked a delicious chocolate cake and decorated it with tiny dolls, bottles and baby toys. It looked so beautiful I did not feel like cutting it also :). Then other friends decorated my home in blue and pink color balloons, baby dresses, and flowers. Abhishek and my friend Kalpana of Pelli Poola Jada got me beautiful flower jewellery which I have always wanted to wear but did not get a chance until that day. And above all, they made my favorite dishes noodles, pani puri, sweets, appam and what not. My god I was so full with food and happiness as we all sat and chit chatted.
It was such a sweet gesture by my friends which left me feeling so pampered and feeling like a Queen that I will cherish these memories for my lifetime. Glimpses of the fun I had that day…