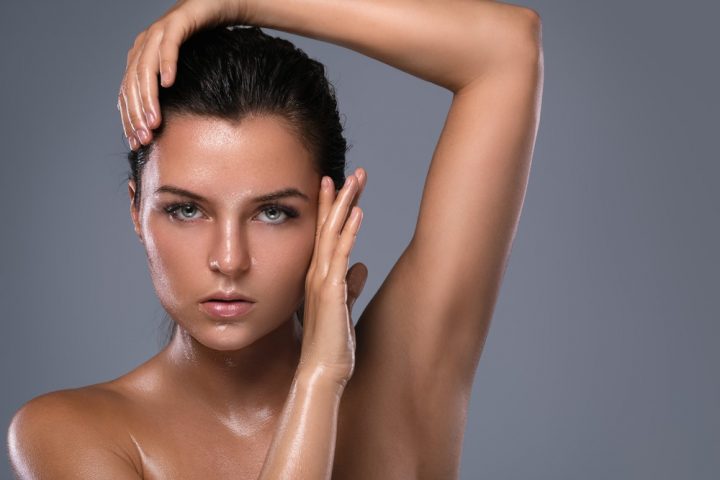 We all know that wearing makeup on oily skin is nothing less than a daunting task. In a matter of hours, the makeup starts dripping off the face, and you are back to square one. The fight seems to be never-ending and people try all possible makeup tips to tackle the situation. From home remedies to things they see on the internet, they do it all. However, in a couple of hours, everything seems to fail terribly.
So, if you are looking for expert makeup tips for oily skin, you are at the right place. We have listed a few possible solutions to tackle oily skin.
Before we begin with the tips that will help keep oil away from the skin, you must know that investing in oil-free makeup is the first step followed by a thorough skin prep.
How Oily Skin Differs from Dry Skin?
The image below will give you a brief idea about the difference between oily and dry skin. The oilier the skin is, there are higher chances of visible blemishes and pimples. Apart from being shiny, oily skin also has large pores that make the skin appear dull and greasy due to excess oil production.
When the sebaceous glands start making excess sebum, the skin becomes oily. Those with oily skin have overactive sebaceous glands and mostly pronounced pores. Dermatologists recommended washing the face twice a day – before going to bed and after waking up. A soap-free cleanser is highly advised for those with oily skin.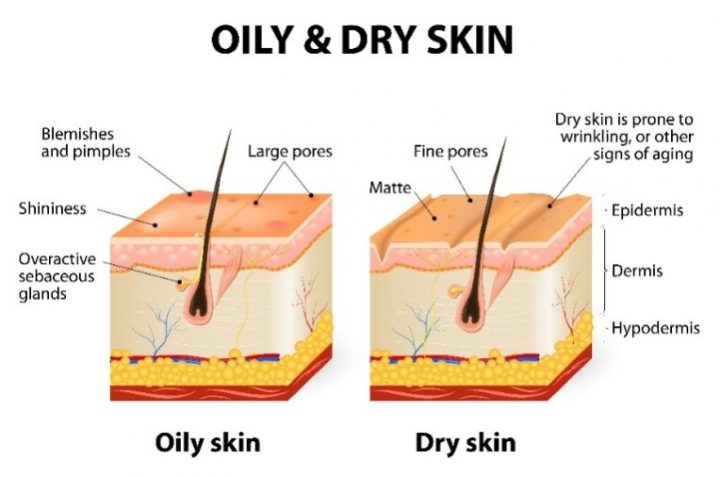 Cleanse, Tone, And Moisturize
The first step is to find a cleanser that suits oily skin. Generally, the one with a formula with salicylic acid should be introduced to the skin. A good cleanser that is suitable for oily skin helps in exfoliating the skin while not making it excessively dry. After the cleanser, move to toner –spray in a cotton ball and apply all over the face. The next step is to apply an oil-free moisturiser to the skin. Press the lotion onto the skin and massage well.
Rely on Rose Water
Use rose water to keep the skin looking fresh and appealing all day long. It helps reveal the natural glow of the skin and keeps it supple throughout the day. Before applying makeup, spray rose water all over the face and let it dry naturally. The plus point is that it has excellent anti-aging benefits as well.
Don't Skip on Primer
For those who have excessively oily skin, a primer becomes a must to control the effects of sebum. Primer makes the skin appear smoother and controls oil production as well. The best part is that primer acts as a glue and helps in holding the makeup in place for extended hours. Look for an oily skin foundation to keep it running for the entire day. The five important elements that those with oily skin need include Primer, Foundation, Blending Sponge, Setting Powder, and Setting Spray.
Many females with oily skin commit the mistake of applying products that excessively dry out the skin instead of controlling the oil. They must know that drying out the skin using oil-control products force the oil glands to overdrive and in return, produce even more oil. One can try applying tomato juice on the skin with a cotton ball to tighten the pores. For more makeup tips for oily skin, one can head to digital platforms like Momspresso for expert guidance on beauty regime for all skin types. Such platforms have beauty experts from all around the world who share their valuable knowledge for those in need.
Remember, all these tips combined will make the skin look less oily and make it easier to manage. Try them out and don't forget to share what worked in your favour. Also, if you have anything other than what we shared, feel free drop it in the comment box. Together we can and together we will fight oily skin with expert makeup tips.