Most Popular At Stylebees
With 450+ Facebook likes and 433K+ Pinterest shares Stylebees post "Get Rid Of Black Heads In 5 Minutes" has been the most loved post by people. I want to take a moment to thank all my readers and share few of my favourite comments for this post. Here they are: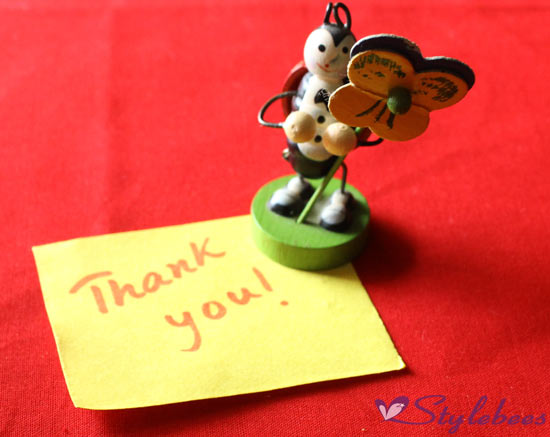 1) Veronika Says:
Love this trick. Didn't have that many black heads but on pimples and areas of redness it works wonders! This is a must try. But I used Bavarian all natural honey straight from the honeycomb, which I think made this trick work a lot better.
This is a great option for travelling – simple ingredients you can usually find pretty easily!
2)Emily Says:
It worked for me (mostly)! I saw a noticeable difference in the darkness of my black heads. I have very sensitive acne prone skin and any kind of rubbing, even putting on lotion, will turn my skin bright red! Happily this treatment didnt turn me all tomato-y!!! I also saw reduced inflammation in the other pimple on my face yay! I love the way honey makes my face feel too, if you have sensitive skin look up home made honey face masks you can use, it helps a lot! And to all of those who say the lemon makes you more sun sensitive, so does every other acne treatment you use! If you have acne you MUST wear some non-pore clogging sunscreen!
3)DeAnn Says:
I just tried this. It really worked great! I had a lot of blackheads that I've never seemed to get rid of, and after this treatment most all of them are gone. The lemon stung a little at first, but after a few mins it calmed down. My skin now feels soothed, rejuvenated, and clean. Thanks for sharing!
4)Kim Says:
It worked for me =) Even better than the DIY pore strips. I scrubbed for the entire 5 mins, not hard. At first I thought it wouldnt work but I could see the results when the time was up and I rinsed. & I did this at night so it shouldnt be a problem with the sun. This was a nice treat for my skin
Thanks!
Thanks again everybody for your love, keep sharing and caring.

~Swati