I got up in the middle of the night last week with severe pain in my left feet. For sometime I tried to rub my feet thinking the pain would subside but when nothing worked I woke up Abhishek. I started crying badly as I woke him up thinking something's going wrong in my body. A sudden panic stuck both of us as all sort of thoughts crossed our minds being in Week #25 of pregnancy. The pain was getting worse and it was difficult for me to even move, it felt as if someone invisible was twisting my feet with all force. We decided to first take a pain killer to settle it down a bit and then think what to do next.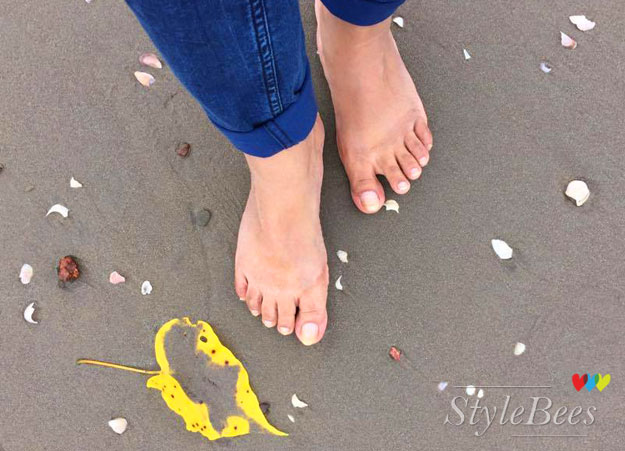 10 minutes passed, 20 minutes passed but the pain killer was just not effective. In the meantime Abhishek kept on rubbing my feet as he googled for the symptoms. We figured out it's Edema, as the article says "Swelling (edema during pregnancy) happens because your body is holding on to more fluid than usual. The increased pressure in your leg veins, and pressure from your growing baby on the big veins in your groin, add to the problem." It is aggravated at times with excessive exertion due to long sitting and standing.
One immediate cure for Edema in feet suggested was to lie down and elevate the feet with the help of 2-3 cushions, we tried it and within next 5-10 minutes the pain started fading and we sighed relief. I slept with my feet on the cushion that night.
Next morning I called my gynaecologist and told her about the pain and she confirmed it to be Edema. She asked to increase water intake and avoid standing for long time, instead walk at frequent interval. She also advised to sleep with feet on cushion if pain is there or feet are numb. She also asked to continue my regular exercise and walks.
WALKS!!! yes kids holidays, long shopping spree with friends and skipping exercise for a week almost…. I think this is the reason Edema increased all of a sudden. I faintly remember during my first pregnancy also I had some leg pain but don't remember the details. So I think I will start documenting my pregnancy experiences and some good things which I am doing this time which keep me more relaxed…