2.Flower  Dome  (Cold & Dry Conservatory)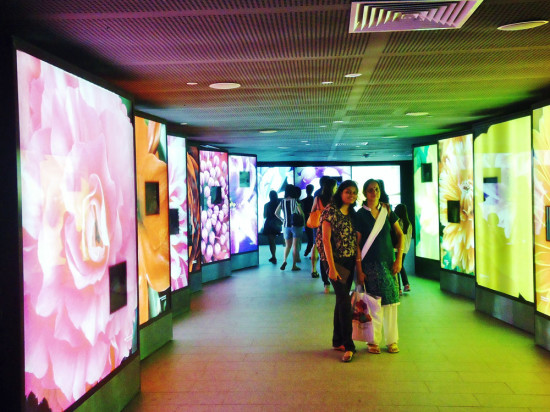 The Flower Dome occupies an area of 1.2 hectares (3.0 acres) in the Gardens by the Bay, Singapore. It replicates a mild, dry climate and features plants found in the Mediterranean regions like South Africa, California, parts of Spain and Italy and other semi-arid tropical regions e.g. parts of Australia, South America, South Africa.
Amazing plants and flowers from different corners of the globe are preserved here and regular flower shows and displays are held within the conservatory.It is home to a collection of plants from deserts all over the world.
With Singapore's unfriendly "too hot" and "too humid" climate, its hats off to the planners who thought about creating glass conservatories that could both, be artificially cooled and naturally lit by the relentless sun – a tropical greatness!
With 3,332 panels of 42 varying shapes and sizes of spectrally selective glass, the Flower Dome is like a giant puzzle!The height of the Flower Dome is 38 meters (125 ft) and it maintains a temperature between 23°C and 25°C; slightly lower at night.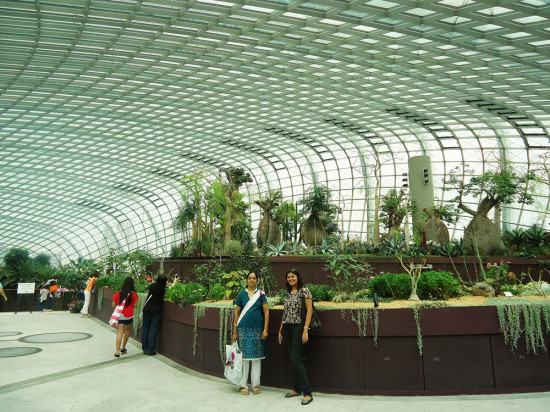 The Flower Dome features 7 different "gardens" described below:
The succulent garden and The Baobabs – Plants in this section are mainly from the most arid warm temperate zones i.e.

USA

,

Mexico

,

Africa

and

Madagascar

.
The Australian garden – contains plants from warm temperate arid and semi-arid zones in

Australia

including the famous

Wollemi Pine

and some

Eucalypts

.
The South African garden contains plants from a wide range of zones in South Africa.
The South American garden contains plants from temperate semi-arid zones of South America.
The Mediterranean garden contains plants from the areas around the

Mediterranean Sea

like

Stone Pine

,

Cork Oak

and

Canary Island Date Palm

.
The Californian garden contains few plants from

California

.
3.Super Tree  Groove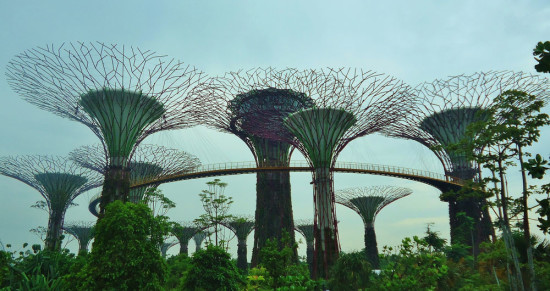 Supertrees are uniquely designed vertical gardens of 25 to 50 metres height, having large canopies that provide shade in the day. They perform a multitude of functions, which include planting, shading and working as environmental engines for the gardens.
The Supertrees are home to many unique and exotic ferns, vines, orchids and other plants.
They are fitted with photovoltaic cells that mimic the ecological function of trees for harnessing solar energy to perform the following functions:
Photosynthesis
Collection of Rainwater
The Super trees also serve as Air 'intake' and 'exhaust' as part of the ' cooling systems of the conservatories.
Hope you enjoyed the tour. Shall be back shortly with my next travelogue. Till then, take care.