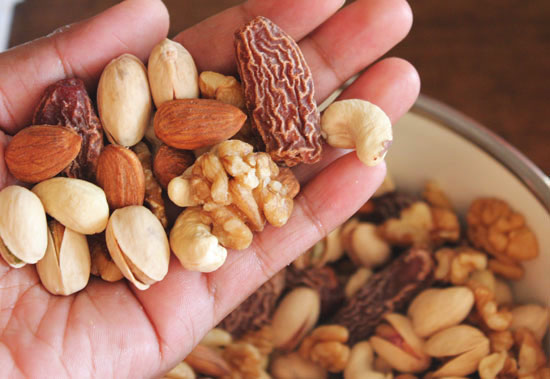 Do you feel that in today's busy schedule your daily nutritional needs are not fulfilled by the regular food you eat??? You are often required to take vitamin supplements???
Hmmm…then I would say cultivate this daily habit and see the difference in your health and skin and a assurance for better health in future also. Just make a habit of eating these 5 dried fruits daily, I generally have 2 almonds, 2 dates, 2 pistachios, 1 walnut and 1 cashew. These handful of assorted nuts combine together to fulfill your nutritional needs. You can adjust the amount as per your needs but remember moderation and regularity here is the key.
Health and skin benefits of dried fruits:
Walnut
Good for brain and boost the memory.

Has Omega-3 fatty acids which helps keep our skin healthy and supple.Also reduces skin breakouts.

Has copper which erases wrinkles and improves skin elasticity.
Almond
Has Vitamin E which is a food for the skin thus nourishing it and keeping it healthy.
It reduces the acne appearance and also blackheads and whiteheads.
Dates
Has anti-oxidants which help fight the evil of today's age the Free Radicals.
Are a rich source of B Vitamins which help to keep skin healthy, promotes healthy hair and also tones muscle.
Cashew
Has loads of plant protein which helps to fulfill a part of our daily protein need.
Has most of the vitamins and calcium and iron.
Pistachios
Great source of Vitamin E so helps to maintain skin health.
Has 2 carotenoids which are found in rare nuts. This helps in keeping our eyes healthy and prevents any age-related eye degeneration.
Remember these nuts should complement your daily food and not replace them. I mix all large quantity of all 5 nuts together and store in a box on my dining table and have them the first thing in morning, how would you prefer to have them, any suggestions are invited
Here's a chart for your quick view of the vitamins and main nutrition which nuts have